News
Please click on the above link to view the most recent Ofsted Report (2016).
Please click on the above link to view the most recent SIAMS Report (2017).
Please click on the above link to view the most recent school newsletters.
Please click on the above link to view results for 2018-19.
Alveston Sports Premium 2019-20
Click the link to see how we plan to spend the funding in the academic year 2019-20.
Alveston SEND Local Offer 2019
Please click here to see our SEND information for 2019-2020.
Charity work - Aquaid

For many years now we have supported Aquaid. Our school water cooler (in Key Stage 2 Practical Area) is an Aquaid cooler. The money saves lives and provides essential supplies of water for people who are not as fortunate as us! We are very proud to support such a worthwhile charity.
Stratford in Bloom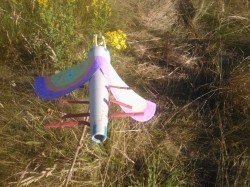 Well once again we entered and we are delighted to say that we won! This year, as always, every child was involved and we included all areas of the curriculum. The lower school theme was sunflowers. So, as well as every child in Reception, Y1 and Y2 planting and caring for seeds, we made huge sunflowers using collage and textiles and we looked at VanGogh's famous painting. We also made up sunflower songs, dances and poems. Upper school had a theme 'To 'bee' or not to be...' We planted many wild flowers in school and at Forest School, we wrote poems, made bug sculptures, acted out some of Shakespeare's famous lines and created bug hotels as well as much much more. We even managed to attract bees and we have a nest on our forest school site.
A big well done to Miss Campbell and Mrs Newitt for co-ordinating the event this year.
Stratford Railway Station ART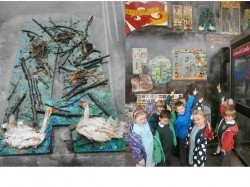 Children in Reception have contributed to the new sign at Stratford Railway Station. We decorated 'A' and represented our views of the town - water, timber framed houses and swans. You can see it now, along with all the other letters by other schools and organisations. The sign looks beautiful. The whole project was completed working with local artist Rob Hamp and it was organised with Stratforward. Reception thoroughly enjoyed the opportunity to take part!
Stratford upon Avon Town Trust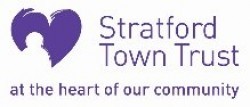 A registered charity 1088521.
The Town Trust support the school often. Click into here to visit their website
Supporting the school
We are often asked how parents can help! There are many ways. If you have regular free time you could come into school to listen to readers, to help organise the school library, to help in Forest School sessions or share your vocational talents! Please speak to class teachers if this is something that you would like to do.
Alternatively, you can support the school through the Friends of Alveston - fundraising, organising events and sharing experiences to help new parents.